Portal systems
EPF3. Creates added value, creates overview, creates new sales channels.
Our EPF3 (Enterprise Portal Framework) is a so-called Extendable Management System. Basically a content management system, it can be upgraded and extended with individual modules. In EPF3, these modules are tailored exactly to the needs of automotive manufacturers and their distributors.
Intra and extranet solution
Designed as an intra- and extranet solution, EPF3 is tailored directly to the B2B (primarily between manufacturer and retailer) and B2E sectors. For the B2E area, solutions for information transfer or eLearning are available here, while EPF3 unfolds its full strength in the B2B area with modularized sales promotion measures.
The strength of this automotive portal system lies in its modularity. And there are no limits to it. We would be happy to develop modules tailored specifically to your company.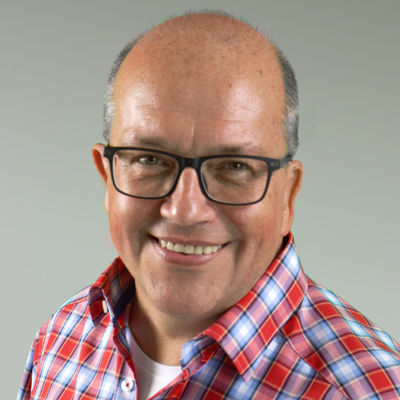 Harald Bluhm
Key Account Manager
---
The EPF3 modules at a glance:
EPF3 is a content management system that allows you to easily create intranet or extranet solutions to provide information and services to your employees and distributors. But we don't leave it at that. Because we know how diverse the requirements of the automotive industry can be. That's why EPF3 features high customization options.
The modular portal can be expanded to include a large number of additional applications. A wide range of standard modules ideally supports the business process of manufacturers and dealers alike. Of course, we are also always ready to develop further customized modules according to your requirements.
Auto-Portal & Stock-Locator
For Manufacturers & Dealers: The Auto Portal Module
With this EPF3 module, manufacturers put leasing returns online via intra- or extranet for remarketing. The target group here is company employees or dealers who are looking for just such vehicles for their customers. Dealers can also easily use EPF3 to offer new and used vehicles online.
With a sophisticated role concept, this module lets you set priorities between the various buyer groups and ensure that vehicles are sold according to their specifications.
Stock locator: Find the right car without waiting time
A common but difficult problem to solve: A customer wants a new car with an individual configuration. However, this configuration is not immediately available and can mean a long wait in individual cases. A point that is naturally undesirable from a service perspective.
The Stock Locator module solves this problem with a search function in the inventories of other dealers. As soon as a vehicle with the right configuration is found, contact is established between the dealers. The customer receives the desired vehicle with the shortest possible waiting time. Not only does this improve customer satisfaction, but at the same time you save yourself and your customers the search for alternatives.
Workflow optimization for warranty claims
The manufacturer's warranty does not cover everything, which is why some issues can only be clarified in discussions between the manufacturer and the dealer. This takes time - a circumstance little appreciated by customers who are urgently waiting for the return of their repaired vehicle. INSIGMA's warranty acceptance process can remedy this situation.
The workflow-based system allows warranty repairs to be pre-approved by the manufacturer and all necessary approvals to be obtained automatically. The dealer triggers the workflow by filing the required documents in the system. Automatic checks and the issuing of approvals by specific persons or functions enable warranty claims to be processed quickly and in a customer-friendly manner. This reduces the process effort for dealers and manufacturers to a minimum. Most importantly, dealers and customers receive reliable information about the scope of repairs covered by the manufacturer's warranty, which also reduces the number of returns to the manufacturer.
The process is handled by a simple front-end system. All requests are automatically archived. The system also includes comprehensive reporting, which is available to both the dealer and the manufacturer.
Metrics - Success measurement for retailers
As a manufacturer, you know the problem: You employ special staff for visits to your dealers, where they look at the current figures together on site and discuss any measures that may be necessary. But what happens afterwards? This is where Metrics comes in. The tool enables dealers to take over the supervision of agreed activities and success measurements themselves, and thus to react more quickly if countermeasures are necessary.
To do this, Metrics assigns your activity program to a workflow and provides interfaces to the dealer systems in order to record the current situation and identify possible deviations from target values. All members of your dealer network have access to Metrics. Based on key business data, the tool performs information analyses that form the basis for meaningful benchmarking. Metrics thus supports the business success of the dealers on the one hand and strengthens product sales on the other.
eLearning - training in key applications
What good is the best software if no one knows how to use it? That's why users need to be trained in the correct use of applications. Our eLearning tool ensures that you make the best use of applications such as parts catalogs and car markets in your dealer network. Our web-based eLearning module offers static (e.g. text, video sequences) or interactive (mainly multiple-choice questions) training material.
Our training staff, who are specially trained for the automotive industry, will be happy to provide you with the required content. With this approach, you achieve consistent communication of complex processes and solutions with minimal effort.
Webshop - an absolute must
Digitization has led to major changes in customers' buying behavior. Younger target groups in particular hardly notice a dealer without a web store or website. Nevertheless, "research online, purchase offline" often still applies in the automotive industry.
Therefore, with our webshop module for EPF3, we offer a simple solution for webshop creation for dealers that is adapted to the automotive industry. Thanks to its mobile-optimized design, our webshop module can be displayed on a wide range of devices such as desktops, tablets and smartphones. Other features:
Multilingual support
Individual layout customization options
Intuitive interface based on our user-friendly concept
A slider module to promote current offers
Responsive design
Our webshop module supports all common payment methods, such as bank transfer, direct debit, credit card as well as SaferPay and PayPal.
---
What else EFP3 does for you
You decide about look & feel
The EPF3 interface can be individually adapted to your respective corporate design. So that the portal solution fits into your working environment.
You decide which languages are available for which markets
Does your company work in multiple languages? You are on the move in different markets worldwide?
EPF3 offers you a translation of the interface and content elements. And what's more, you can use the roles and rights system to adapt the content to the needs of the respective market.
You decide who can access which content and functions in the system
EPF3 has a complex system of roles and rights and can be tailored to your individual needs. The assignment of rights can be gradual down to the level of the individual user or element.
You have the option of integrating an audit-compliant review module, which you can use to check authorizations and users at regular intervals.
With approval workflows, for example, you can check postings in the system with dual control before they are published to users.
In addition to our own authentication routines, EPF3 can of course be connected to your existing registration system.
EPF3 relies on a complex database system to log every access, action and modification of content. Furthermore, we are able to implement routines for checking the validity of user IDs. All this makes changes traceable and reduces the verification effort for you to a minimum.
Are you interested in EFP3 and in modules designed especially for you? Feel free to contact us for more information or to arrange a meeting to discuss your needs.
---
Your contact for portal systems/extranet: