MIA® MetaDirectory
Your central directory for telephone system and intranet
Your central directory for telephone system and intraHow much time do you or your employees spend searching for the correct and current telephone numbers, email addresses or addresses? Quickly it is said: Number not there! Do you know this? Again and again you are searching for the right contact data? Where is that darn list? And the employee who can help you is not available at the moment.
A common cause: The information is stored in different locations or in different databases. If this contact information is missing in your daily business, you not only lose valuable time. In the worst case, you may annoy your business partners or important deadlines may expire.
Put an end to it! With our digital telephone directory MIA® MetaDirectory you can create order.
Make your calls with one click. How is this possible? With MIA® MetaDirectory: Our MetaDirectory brings together your contact data sources in one central directory. No matter how many sources you use in your company. This allows you to create effective workflows and have the right phone number at hand at all times.net
All contact details at a glance
Increase the quality of stored contact information. With MIA® MetaDirectory, we have developed the software for you to do just that: MIA® MetaDirectory converts your contacts' phone numbers into a consistent format. You see this information as high-quality search results on your screen. What is the priority of the customer or what is the sales volume? You configure the scope of the displayed contact information yourself. Just as it suits your needs and requirements.
Instant information about incoming calls
Who is calling you? With MIA® MetaDirectory you get the information with the first ring. MIA® MetaDirectory compares phone numbers of incoming calls with your phone directory without delay and resolves them for you. In the dialog window you can see at a glance the information about the caller, if it is stored in your data. In this way, you are always prepared and can prioritize the tasks at hand in your stressful workday even better. You can answer calls immediately, delegate calls or decide to call back later. Information from phone calls answered in a hurry will no longer be lost.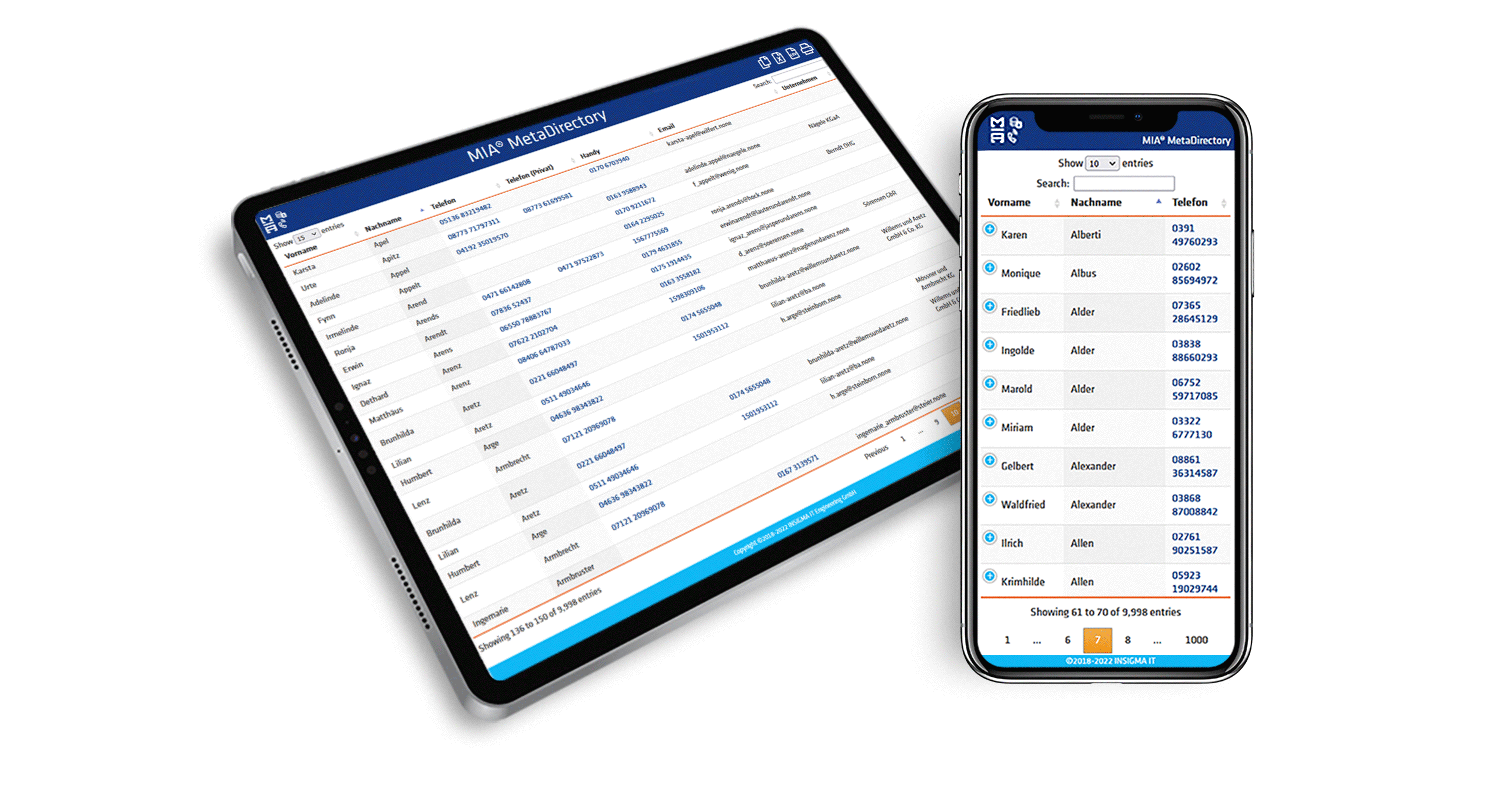 All contact details immediately available
How do you access the data? Aptly described: simply.
The MIA® MetaDirectory is connected to your telecommunications system (PBX). The direct connection allows you to easily search for the contacts you need. You will not notice any difference whether you are working on a stationary or a mobile terminal.
Enter the search term and the information you need will immediately appear on the screen. Then contact your customers as well as business partners. Depending on the capabilities of the end device, you start the desired call with a click of the mouse or a tap of your finger. New or changed contact data is also available promptly on all end devices.
Fault tolerant search
Whether it's a different spelling or a misspelling, MIA® MetaDirectory catches it for you. The algorithm finds the desired information for you. Thanks to the error-tolerant, intelligent search technology.
Simple operation - Simple license model
MIA® MetaDirectory is not a cloud application, but a local solution. MIA® MetaDirectory works together with your PBX and its software. This ensures that your contacts' business information and data remain with you and are protected at all times.
Is a transparent offer important to you? To us, too! That's why you can book MIA® MetaDirectory from us using a simple licensing model.
You can already implement the following options with the MIA® MetaDirectory base license:
Assign a fixed phone number to an employee. At any time and from any device, your employee can access MIA® MetaDirectory. On devices as diverse as smartphone, tablet or PC.
Organize job sharing within the framework of a service phone number. Several employees can be reached at the same time via the same extension number and access the contact data in the directory.
Make the transition from office workstation to home office smooth. Your employees can be reached at the home office just as they are in the office.
Are you interested in MIA® MetaDirectory and the license models? We will be happy to answer your questions.
---
Contact our MIA® MetaDirectory expert right away to arrange a free, no-obligation consultation.